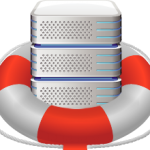 Companies today rely solely on their electronic data. Preserving and protecting those data is a very important aspect of our profession. Downtime on any company must remain at a minimum. Redundant storage devices, Server Clustering, ISP failover, scheduled backups, virus and thread protection, advanced firewalls and many more protect your IT infrastructure and data up to a point.
What happens when suddenly everything stops working? In a case of disaster, Acenetworks is next to you. Our advance knowledge in recovery of any hardware or software disaster warranties that your company will be up and running at a minimum time.  Our engineers, with experience in both data and hardware recovery, will make sure that the integrity of your Company's data and IT infrastructure will be restored. Combining our knowledge and experience with some of the best data recovery experts in the world, ensures that all the crucial data of any company will be intact.
Please click here to view a real life disaster recovery event we had in one of our clients.
Call us today at +357 22516181 or Email us at support@acenetworks.eu
Providing the service that others only promise!